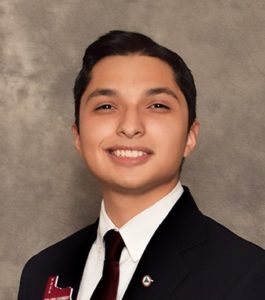 Texas HOSA members/advisors,
Every great journey must start somewhere. I'll be forever grateful for beginning mine with the
amazing organization that is HOSA. This gratitude is mixed with a great sense of admiration for
the membership and all those who make sacrifices to give them the best HOSA experience
possible. It is the membership, along with the leaders of HOSA, that keeps the love for HOSA in
their hearts and continues to be hopeful for the future. Together, as a team, all those involved
in HOSA will continue to produce the next generation of quality health care providers.
Memory of places, people, and names may fade, but the memory of a feeling can never wither. I
have traveled far and wide for conferences, but I will never forget the feeling of home I
experience every time I put on the HOSA uniform and walk into a conference. This experience
is one that should be felt by as many people as possible.
So, Texas HOSA, my challenge to you is to go out and be the reason someone joins HOSA
today. After all, the flames of HOSA live in us all, we just need someone to ignite them. I am
excited to see you at state, so keep studying, good luck, and make the most out of today!
Best regards,

Jose Escobedo

Texas HOSA State President