Texas HOSA Members & Advisors: Now, more than ever, the importance of healthcare professions is evident. Amidst a global pandemic, doctors, nurses, pharmacists, and the millions of health care workers across the world have stepped up for the rest of humanity. As a community of future health professionals, it is our responsibility to prepare ourselves and rise to the occasion. In HOSA, we are united by our passion for healthcare. Use this drive to learn, lead, innovate, and serve. HOSA will truly allow you to "unlock your potential," and I encourage you to immerse yourselves in what this organization has to offer. HOSA has given me a direction, defined my purpose, and shaped me into the person I am today. I hope HOSA will have a lasting impact on you as well. Despite these unprecedented times, I am certain that our HOSA members will continue to persevere and stay devoted to their pursuit of medicine. As we continue on this journey, I wish you the best of luck and hope to meet you at our State Conference in Round Rock, Texas! Until then, stay strong and healthy. Sincerely, Tom Punnen Texas HOSA State President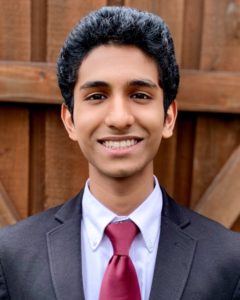 Tom Punnen, a senior at Liberty High School in Frisco, TX, is the current Texas HOSA State President. As the State President, Tom works to ensure that all the goals of Texas HOSA are accomplished, whether that be by leading meetings, serving as a voting member on the Texas HOSA Board of Directors, or by developing an annual state program of work. Above all, Tom hopes to serve Texas HOSA in a meaningful and impactful way, continuing to inspire the health professionals of tomorrow.
Tom's HOSA journey began his freshman year as a member of his local chapter. Competing in Medical Math, volunteering at local blood drives, and investing himself in the countless opportunities the organization had to offer.  The following year, Tom was encouraged to run for an area officer position, where he was endorsed to be a state candidate. After completing a second round of applications and interviews, Tom was elected to serve and lead Texas HOSA this upcoming year as the State President.
In addition to unlocking his leadership potential, HOSA has instilled in Tom a passion for healthcare. Inspired by such like-minded and driven HOSA members, Tom took advantage of the opportunities available to him and immersed himself in medicine. Tom currently shadows an autoimmune neurologist at UT Southwestern in Dallas, conducts research over neuromuscular disorders, and volunteers at the Texas Scottish Rite Hospital for Children during the summer. One day, Tom aspires to be a neurologist, helping patients live their best life. Until that future, Tom enjoys playing the cello, biking, and solving the Rubik's cube.
Just as Tom has grown in this organization, he hopes to give back to Texas HOSA by inspiring each member to strive for success as future health professionals. He is so excited for this upcoming year and looks forward to a wonderful State Conference at Round Rock, Texas!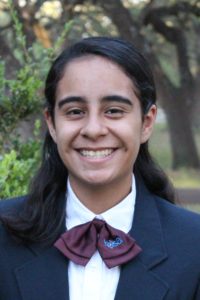 Italy Ramos is a senior at Health Careers High School. She serves as the State Secondary Vice President. Her responsibilities include, serving as a voting member of the HOSA, TA board of directors and as the chairman of the Credential Committee for State Officer candidates, working to ensure the goals of HOSA, TA are accomplished, and serving in any capacity as directed by the president. Her use of communication skills, organization, and motivation allow her to effectively work with her team and other HOSA members to ensure the objectives of Texas HOSA are met.
Italy began her HOSA journey as a freshmen competing in Health Career Photography. Through this experience, her desire to serve her community in the medical field grew even more. She has also competed in HOSA Bowl and Prepared Speaking, which allowed her to explore the different events HOSA has to offer. Sophomore year, Italy was elected as the Texas HOSA State Secretary, where she was able to meet members and HOSA Officers from Texas and beyond. As she enters her fourth year in HOSA, Italy hopes to spread her love for the organization and show how impactful it is on future health professionals.
Italy values friendship, confidence, and teamwork. She believes that to build a team, you must first have friendship...a bond so strong that challenges are overcome with ease. Teamwork is important to her because it shows that everyone has a unique set of specialties to contribute.
Aside from HOSA, Italy is a volunteer at her church, plays the viola, raises ducks, a member of Spanish Honor Society, and her local chapter's National Honor Society President. As a native of San Antonio, Italy enjoys exploring new places like the Botanical Gardens or the historic missions in the heart of her city. She hopes to continue her passion for traveling and aspires to be a Pediatric Oncologist. She appreciates classical music, museums, and all kinds of pasta.
Italy is eager to meet HOSA members and motivate them to find their inner leader at the 2021 State Leadership Conference in Round Rock, Texas!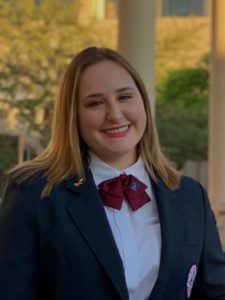 Alexis Grasso is a second-year student at the University of Texas at San Antonio and majoring in Public Health with a concentration in Epidemiology and Disease Control. As the Post-Secondary Vice-President, Alexis serves as the representative for the collegiate division of Texas HOSA and as a voting member of the Texas HOSA Board of Directors, allowing her to diligently work towards accomplishing HOSA, TA goals.
It has been through HOSA that Alexis found happiness as well as her calling of being both a future health professional and leader. She hopes to serve as an example of the opportunities that HOSA provides. Originally from Copperas Cove, Texas, now living in San Antonio, a number of things have changed for Alexis except her passion and commitment to HOSA. Entering her sixth year as a member, Alexis has served as a local, area and now state officer. She has competed in Medical Assisting, Health Care Issues, and continues to dedicate time volunteering within her community. Outside of HOSA, Alexis is an active student serving as the UTSA Student Government Association Parliamentarian, is a part of the National Association of Parliamentarians, works as a Pharmacy Technician, and is a devoted dog mom.
Alexis's values align with HOSA's of innovation, leadership, learning, and service. Using each value to the fullest when it comes to accomplishing goals and being a part of the healthcare world. Each day Alexis goes by the saying "know your why" and as an officer her "why" is serving you and Texas HOSA while leading every member to collegiate and professional success.
Above all, Alexis looks forward to working with you, watching Texas HOSA grow throughout the year and rock it at the State Leadership Conference in Round Rock, Texas!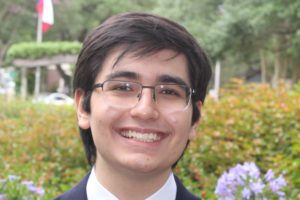 Mielad Ziaee is a senior at Clear Brook High School in Friendswood, Texas. Currently, he serves as the 2020-2021 Texas HOSA Secretary. Entering his fourth year in HOSA, Mielad commonly mixes up "family" with "HOSA," as this organization has allowed him to grow as a leader, a student, and as a future health professional.
Besides working to ensure a successful year for Texas HOSA members, Mielad records the official minutes and attendance of the State Executive Council, sends correspondence as directed by the President, and works with Area Officers to maintain and compile meeting minutes throughout Texas.
Since his Freshman year, Mielad has competed in Medical Terminology and Medical Spelling, served as a Voting Delegate on the State and International level, and represented Area 2 as the 2019-2020 Vice President. HOSA has even led Mielad to an internship at the Baylor College of Medicine in Pediatric Gastroenterology, and allowed him to meet many health professionals, dedicated students, and supportive advisors.
In addition to being a proud member of HOSA, Mielad also dedicates his time to volunteer with the American Red Cross and is an active member of the Clear Brook Model United Nations. After a productive day, you can find Mielad solving his Rubik's Cube and finding more ways to eat pasta.
Mielad follows Booker Washington's quote, "if you want to lift yourself up, lift up someone else."  Through HOSA, Mielad has witnessed this quote in action and now has a better understanding of servant leadership. He enjoys seeing the success of HOSA members after a competitive event and the "HOSA Hype" throughout Texas, and will serve to increase these memories for even more Texas HOSA members. He looks forward to meeting more HOSA members at the State Leadership Conference!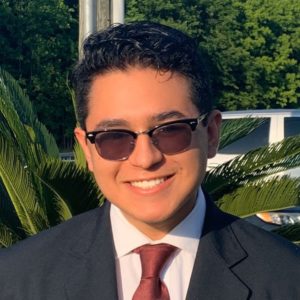 Mahmood Sadeghi, a senior at Pasadena Memorial High School and a proud member of Area 6, serves as the 2020-2021 Texas HOSA State Historian. As the Texas Historian, Mahmood collects digital pictures from active HOSA members and chapters, plans and develops a multimedia show for state conference, serves in any capacity as directed by the president, and works to ensure the goals of HOSA, TA are accomplished. Overall, Mahmood is delighted to serve HOSA and continue to strengthen his ties with the wonderful people of this organization, which he refers to as his "HOSA family".
Mahmood's HOSA journey started during his freshman year of high school when his medical terminology teacher and HOSA advisor, Mrs. Trevino introduced him to the world of HOSA. Since then, Mahmood has competed in HOSA events such as Prepared Speaking, has served as his chapter's Secretary and President-Elect, ran blood drives, and fundraised for both the National Alliance on Mental Illness and the National Pediatric Cancer Foundation. Additionally, Mahmood was recognized as a Barbara James Award Recipient at the gold level and has served as an International Voting Delegate.
Outside of HOSA, Mahmood loves all things neuroscience and devotes his time to his school's research club. This has allowed him to have internships and attend programs at the University of Houston and Baylor College of Medicine. Moreover, Mahmood loves volunteering with his Interact Club and is a proud interactor and District Governor of District 5890. Besides that, you can catch Mahmood creating another music playlist, playing Animal Crossing: New Horizons, going for a bike ride, drinking boba, or attempting to follow a Bob Ross tutorial.
Mahmood is thrilled to see what lies ahead for this upcoming year and can't wait to meet all of the wonderful individuals within this organization at the 2021 State Leadership Conference in Round Rock, Texas. This year, Mahmood hopes that everyone will be able to unlock their potential and be the key to their own success as they experience their own magnificent HOSA journey!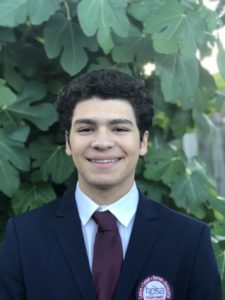 Yousef Elyoussef is a senior at Brazoswood High School. Currently, Yousef serves as the Texas HOSA Reporter, where he works diligently with the other state officers to ensure that the goals of Texas HOSA are fully accomplished. As State Reporter Yousef maintains, updates, and monitors all social media related to Texas HOSA. Whether it be sharing opportunities, posting medical-related information, or noting amazing accomplishments by HOSA members; Yousef is honored to have the opportunity of being able to share valuable information with fellow future health professionals.
Like many, Yousef's HOSA journey began his freshman year when he joined as an aspiring competitor. Yousef discovered what it means to be a part of HOSA through his fellow members, advisors, and officers. He learned that HOSA is more than just an organization for future health professionals. HOSA is a place where he could make friends and connections that will last a lifetime as well as a place where he could find his true calling in the medical field.
Since joining HOSA, Yousef has competed in both Creative Problem Solving and CERT Skills, held multiple officer and committee positions, and served as a voting delegate on the international level. HOSA has even allowed Yousef to pursue an internship at Houston Methodist Hospital and shadow at local hospitals in his area. After attending the HOSA Washington Leadership Academy, Yousef was inspired by the workshops and sessions that helped him grow as a leader and build on valuable skills. As a state officer, Yousef plans to spread the purpose and importance of HOSA and hopes that everyone finds their opportunity to grow as a leader.
Along with being a member in HOSA, Yousef strives to be a supportive part of his community. Yousef volunteers at the local library as well as schools in the area and helps organize community-wide blood drives. At Brazoswood, Yousef is a part of the Cross Country and Science Olympiad teams, serves as the National Honor Society President, and Student Body Vice President. Yousef finds that whatever he is a part of, teamwork is key. He is proud to say that HOSA has been a crucial part in constructing his team-building skills. Outside of school, Yousef can be found working at the best fast food restaurant - Whataburger, reading at the library, or playing foosball with his family and friends.
Yousef hopes that all HOSA members are unlocking their potential by pushing past their limits and becoming the best they can be! Yousef can't wait to see members accomplish their goals throughout the year. He looks forward to meeting you at the State Leadership Conference in Round Rock, Texas!