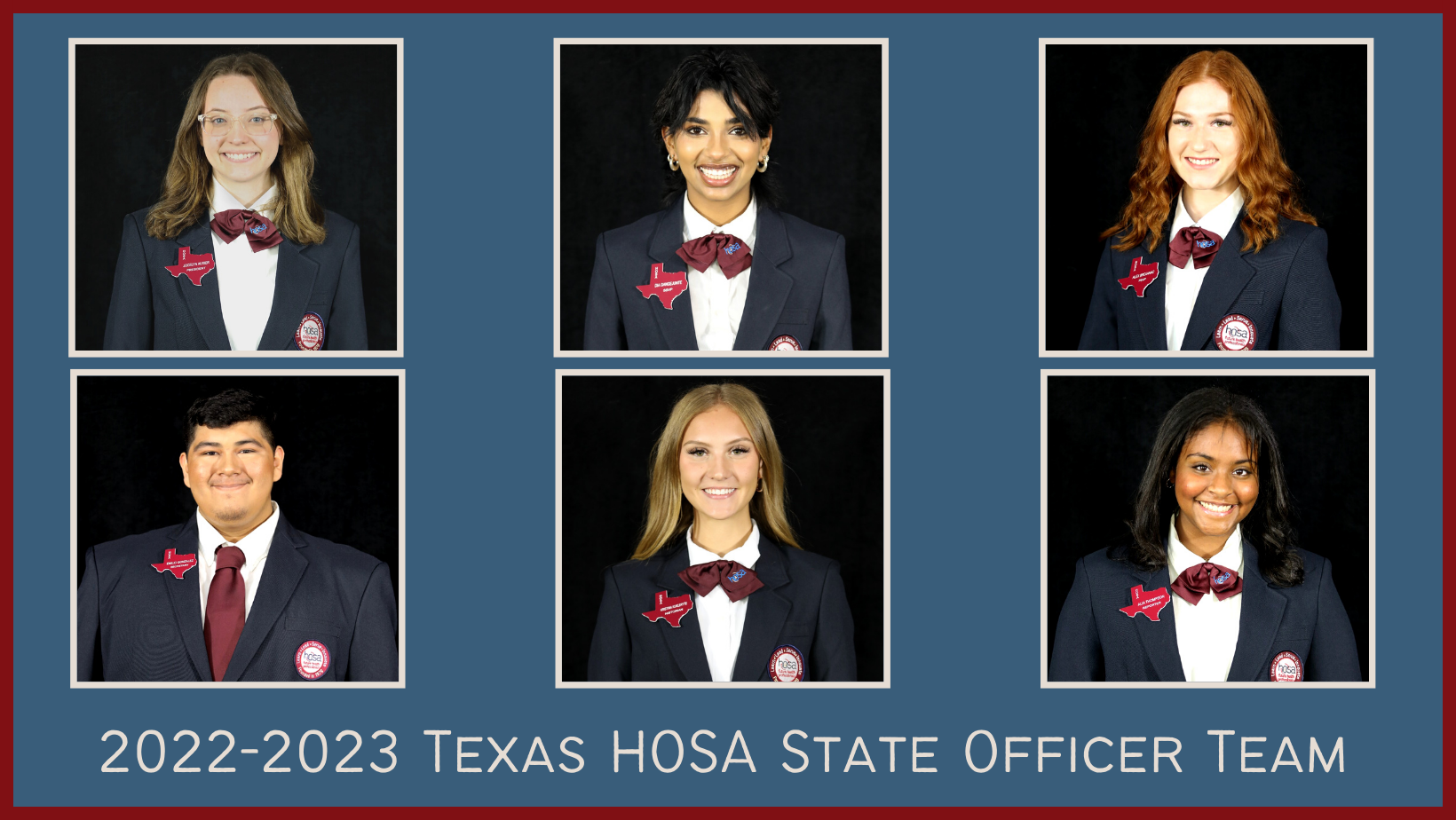 Meet The Team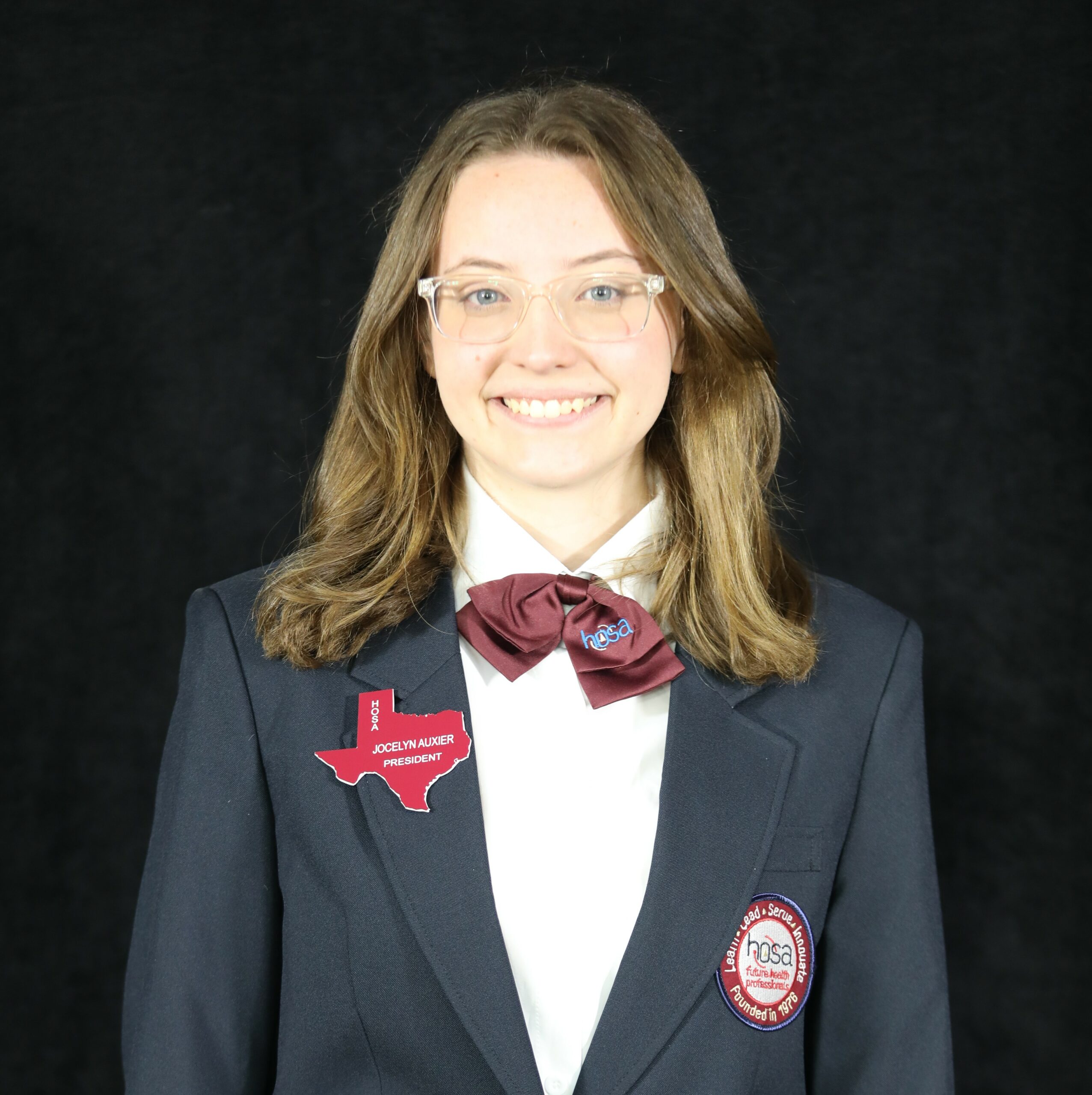 President
Jocelyn Auxier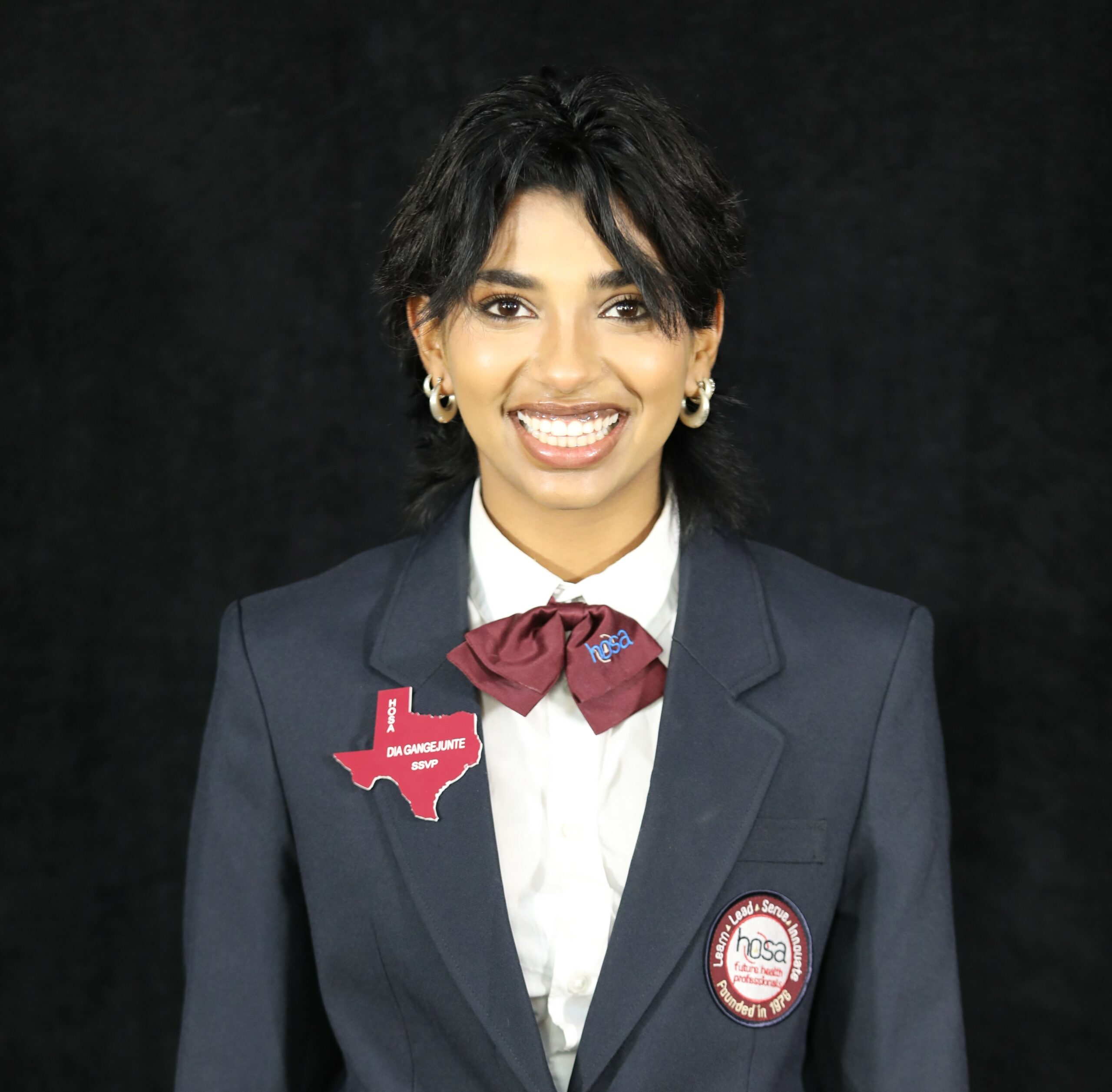 Vice-President
Dia Ganjegunte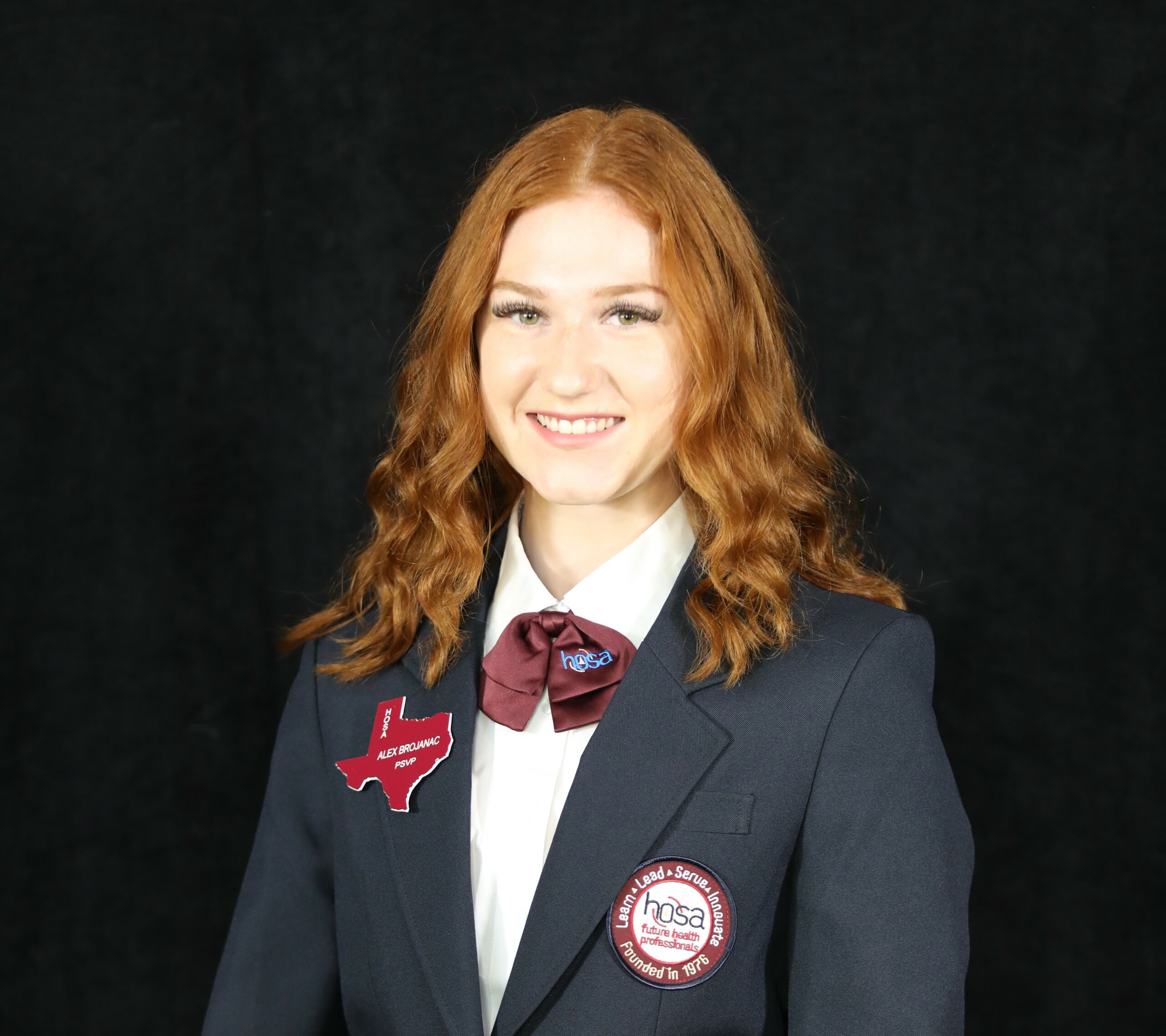 PSVP
Alex Brojanac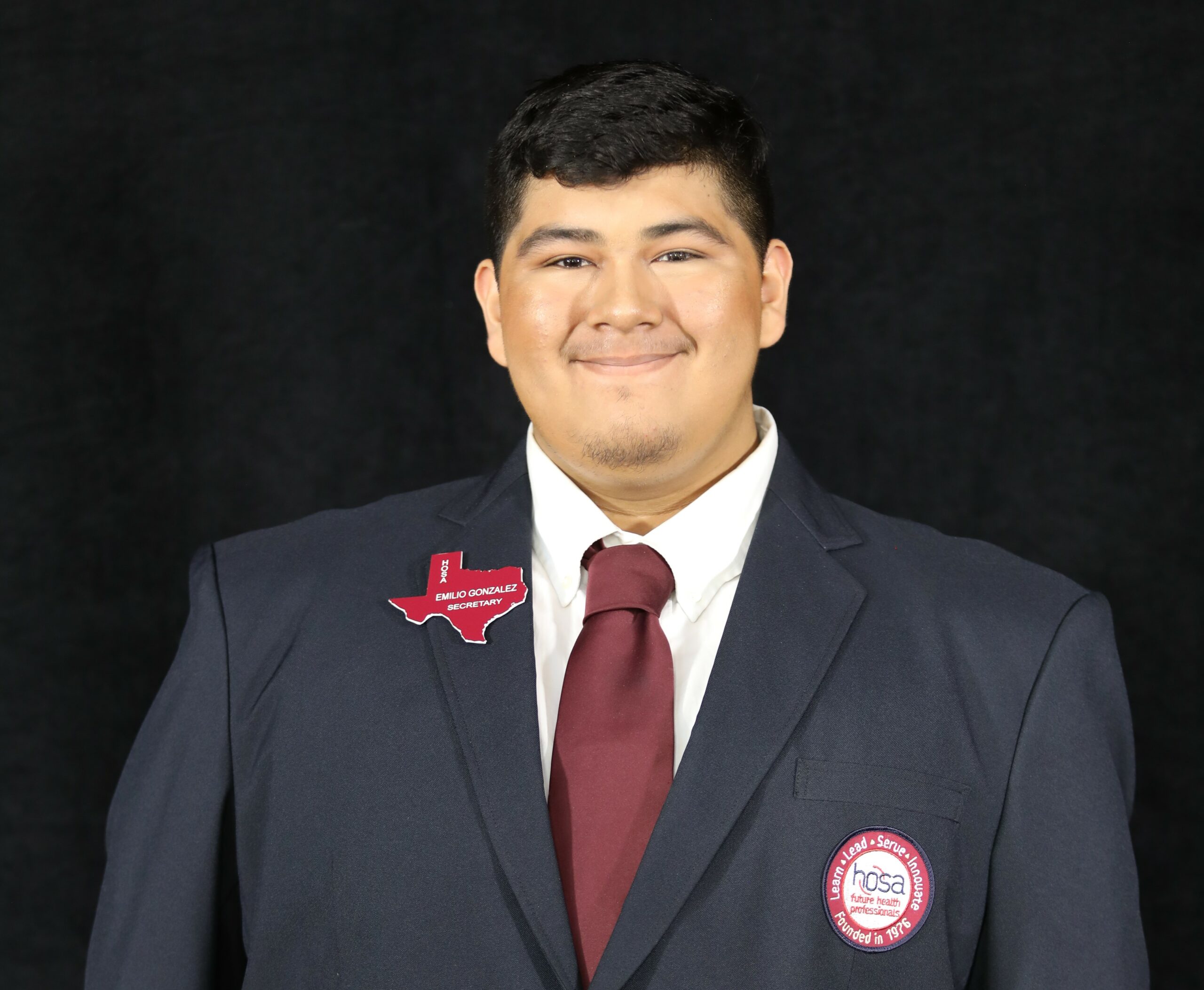 Secretary
Emilio Gonzalez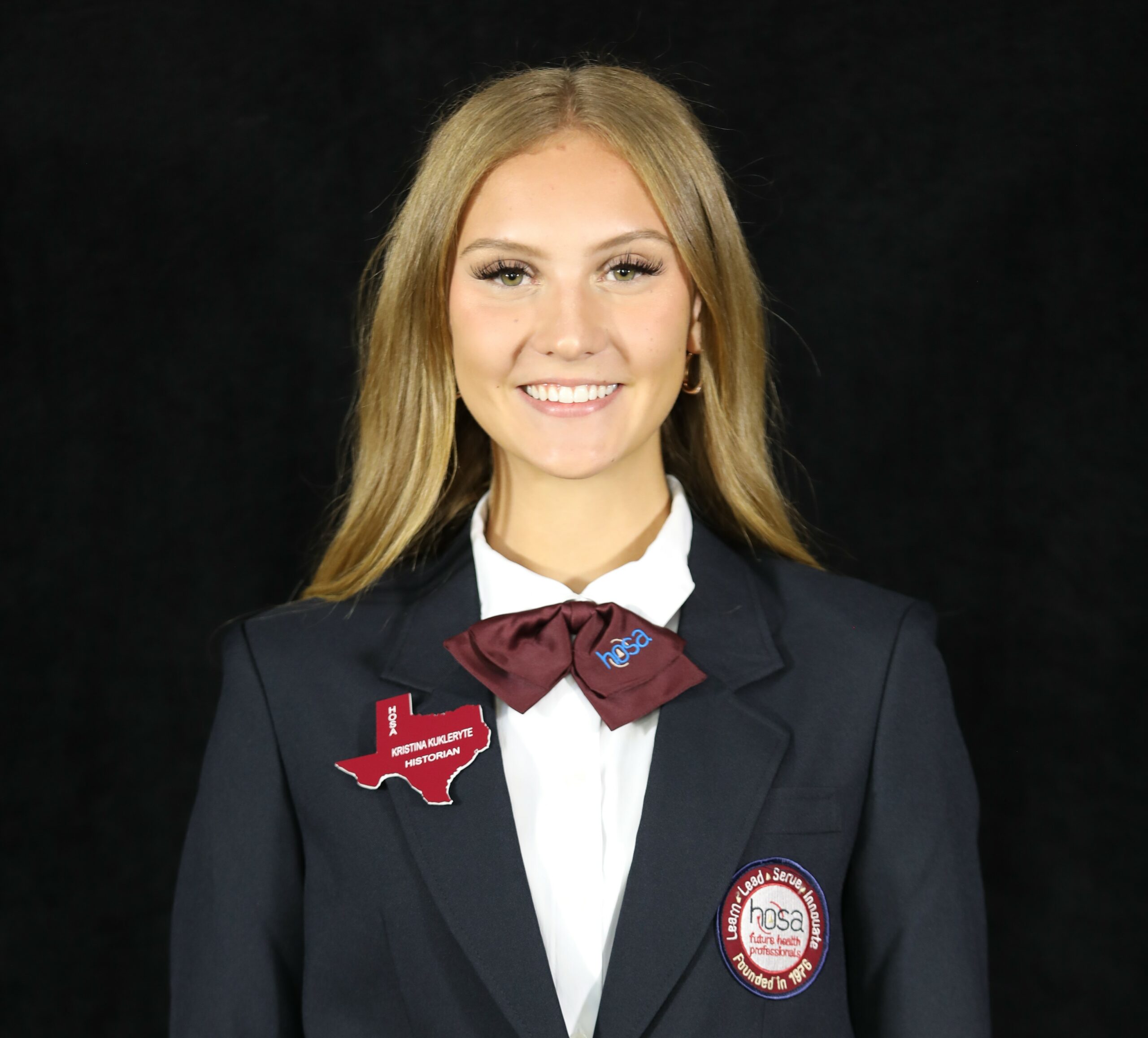 Historian
Kristine Kukleryte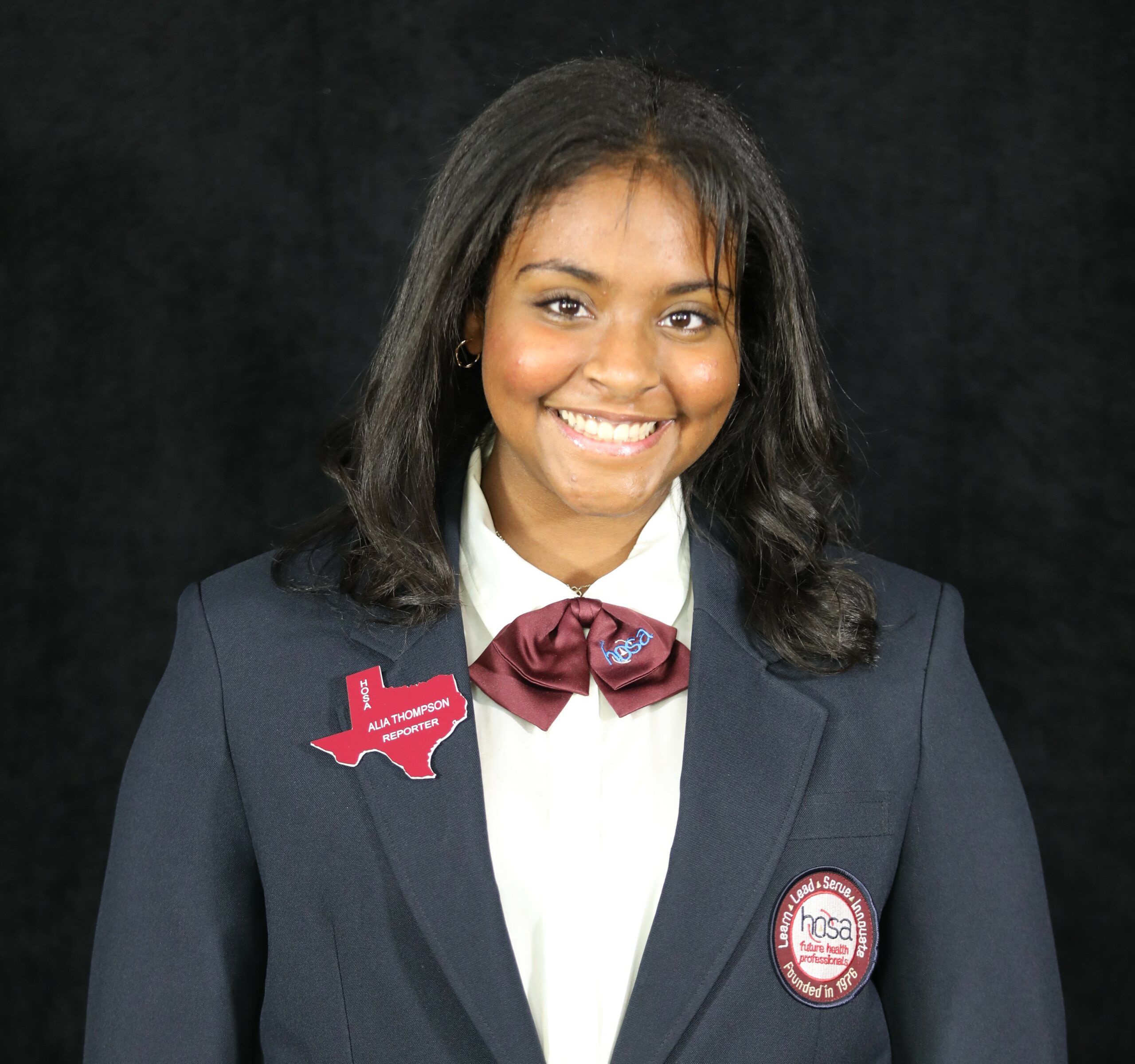 Reporter
Ali Thompson
Aashna Ravi, a senior at Cedar Park High School near Austin, Texas, is the current Texas HOSA President and is thrilled for this upcoming HOSA year.  Aashna embarked on her HOSA journey in the 9th grade where she competed in Home Health Aide at the Area and State level. That same year, she attended her very first International Leadership Conference where she served as Voting Delegate and her passion for HOSA bloomed. The following year, Aashna was elected to serve as the Area 1 Reporter where she created engaging posts and stories for the Area 1 Social Media, and led Virtual Conferences with her team. As Aashna enters her final year of high school HOSA, she looks forward to getting to know and grow relationships with other HOSA members from all over the world. 
In addition to being a dedicated member of HOSA, her passion for medicine has led her to volunteer in blood drives and pop-up clinics in her community. Aashna also enjoys volunteering in her school's Student Council, Spanish Club, and working on projects with her Girl Scout Troop. In her free time, she loves spending time with her dog, catching up on the Amazing Race, and traveling. 
As it has for many members, HOSA has grown to be a large part of Aashna's life, and she looks forward to supporting fellow HOSA members as they travel on their own HOSA journeys. Aashna cannot wait to see what this extraordinary year has in store, and is eager to see the remarkable things Texas HOSA accomplishes!
Swaha Roy, a senior at Westlake High School in Austin, Texas, is the 2021-2022 Texas HOSA State Secondary Vice President.  Like many, Swaha decided to join HOSA at the beginning of her freshman year. Unsure of what she wanted to pursue, she didn't know what to expect from the organization; however, the decision to join HOSA soon changed the course of her high school experience by unlocking new passions in medicine and leadership. 
Through HOSA, Swaha has competed at the state level for Researched Persuasive Speaking and Writing and placed first in the International Healthcare Issues Exam. Within her local chapter, she has served on the officer board for three years and worked on the HOSA National Service Project, Be The Match.
Swaha has come to deeply treasure the Texas HOSA community. From conversing with fellow competitors minutes before a competition to playing games during a virtual meeting, it's the interactions with other HOSA members which have defined Swaha's HOSA journey.
Outside of HOSA, Swaha has volunteered extensively with Ekam Austin, Safe SPACE Coalition, CERT, and NHS. Swaha also enjoys crocheting, reading, and exploring the hiking trails around Austin. She loves all animals and hopes to one day visit the Amazon Rainforest. In the future, Swaha aspires to pursue a career in medicine as either a neonatologist or a maternal-fetal medicine specialist. 
Swaha is thrilled for the upcoming year and can't wait to meet with members across Texas!
Disha Ganjegunte is a third-year student at Texas Tech University and is majoring in Nutritional Sciences as a pre-med student and minoring in Theatre: Acting, Chemistry, and Biology. 
Disha has been a HOSA member for almost 6 years, competing and serving at an area, state, and international level. During high school, she had the honor of serving as the Area 4 Vice President, representing the western region of Texas. She has also served as a speaker on the Career Technical Education Program Panel where she represented HOSA. She finished off her high school career by taking home the silver medal for Creative Problem Solving at the 2019 HOSA International Leadership Conference. At Texas Tech University, Disha founded the first competitive HOSA chapter and can not wait to help more universities discover the magic of HOSA. 
Through HOSA, Disha found her love for public speaking and the healthcare field, one day hoping to be the first neonatologist, actress, and politician. Outside of HOSA, Disha has interned at the US House of Representatives in Washington DC, is a Terry Scholar, JAMPer, Girl Scout Gold Award Recipient, conducts research about maternal and newborn nutrition for women in Ethiopia, and keynote speaker. In her free time, she loves volunteering, traveling, and acting.
As an officer, Disha wants to help HOSA members find their purpose and achieve their dreams. She believes it is important to dream big, but also to work hard to make those dreams realities. Working with the rest of the state officer team, she wants to represent your voice! Disha cannot wait to work with members and take HOSA to a whole new level this year!
Sarp Sahin, a senior at Liberty High School in Frisco, TX, serves as the current Texas HOSA State Secretary.  Sarp's HOSA journey began his freshman year, at a local chapter meeting within the walls of his school's lecture hall. From competing in Sports Medicine, to volunteering at the Red Cross and local blood drives, and developing lifelong friends, Sarp has continuously immersed himself in the numerous opportunities the organization has to offer. Sarp, in his 3rd year as a HOSA member, was selected to run for an area officer position, before being endorsed and elected as a state officer. 
Aside from presenting numerous opportunities for personal growth, HOSA has sparked a passion for healthcare in Sarp. Realizing that he could combine his two passions of sports and medicine in the form of orthopedics, Sarp has readily taken advantage of the medical opportunities presented to him. Sarp interns at the Texas Scottish Rite Sports Medicine Center's Motion Science Lab, where he collects data to research disorders and conditions that impact pediatric movement. In the future, Sarp aspires to be an Orthopedic surgeon, assisting professional athletes in their recovery and rehabilitation. 
Outside of HOSA, Sarp enjoys playing the cello, watching and competing in soccer, and playing backgammon.
Having extensively benefited from the HOSA family, Sarp hopes to give back to the organization that supports his endeavors by inspiring the next generation of future health professionals. He is beyond excited for the wonderful things we can accomplish together this upcoming year and cannot wait to meet members at the next State Conference!
Natalie Borrego is a senior at Socorro High School in El Paso, Texas. She is currently serving as the 2021-2022 Texas HOSA Historian.  Natalie has participated in HOSA since she was a freshman. Excelling at her main event of Prepared Speaking, she has placed in the top three every year. Her love for competition has driven her to find her new family, HOSA. 
As Team Captain of her state Academic Decathlon team, Natalie loves participating in leadership roles. She is always up to a good challenge and always looks for new opportunities. Natalie also serves as Vice President for her Health Professions Academy. Additionally, Natalie is earning her Emergency Medical Technician certification in order to pursue a future career in trauma. 
Natalie also takes part in marching band, the National Honor Society, and the Gifted and Talented program. Aside from school, she also founded her local church's youth ministry. As co-director she manages meetings, plans community service events, and preaches to many crowds. Natalie even sponsors an annual race in her city by the name of "The McKelligon Canyon 5k Challenge" to help global charities and local services. 
Natalie's hobbies consist of socializing, public speaking, playing the trombone, reading, and watching anime. 
There is nothing more imperative to her than assisting others and keeping up with her work ethic. She will be graduating high school with her Associates Degree in Communication.   Natalie's ultimate purpose is to make the other people around her smile through her field of work. 
Her favorite quote to live by is by civil rights activist Malcolm X: "Education is the passport to the future, for tomorrow belongs to those who prepare for it today."
Jon Naqvi, a junior at Travis High School in Fort Bend County, is the 2021-2022 Texas HOSA Reporter. Jon's HOSA journey began freshman year when he stood on stage at his Area's Spring Leadership Conference and took the oath of office as the Vice President of Area 2. Ever since then, Jon's passion and dedication to HOSA has never faltered. 
Competing in pharmacology, building friendships with officers across the district, and volunteering around his community are just some of the many experiences Jon has been given through the organization. Reaching his third year as an active HOSA member, Jon has served at the local, area, and now state level, making meaningful contributions along the way.  
Outside of HOSA, Jon dedicates his time to serving his community as a junior firefighter working shifts to help residents around the area in their times of crisis. Working as a first responder has given Jon a new insight into the healthcare field and he now plans to pursue this course to become an EMT-certified firefighter. Jon also serves his community by actively cleaning the environment. Jon has created a garden with his fellow classmates on campus and helps to water, clean, and care for the plants and foliage around his school. 
After a hard day's work, Jon can be seen drinking boba with friends, riding his bike around the neighborhood, or staying up late playing video games with friends. In the future, Jon plans to move to Boston and work on neurological treatments for those suffering from brain ailments.  
Jon follows the quote by Malcolm X, "Education is the passport to the future, for tomorrow belongs to those who prepare for it today." Using this quote as motivation to reach the top, Jon believes pure determination and proper communication are what builds amazing, efficient teams. 
Additionally, Jon wants to show his HOSA spirit to those in the organization and plans to meet as many new members as possible. Jon hopes that he can be that passport to the future for future health professionals across the state and can't wait to meet members at the State Leadership Conference in the spring!