Texas HOSA Members/ Advisors: My career is coming together. My purpose is becoming clear. My life is thriving and I am so grateful to be present. I am learning to allow the space between where I am and where I want to be, to inspire me, and not terrify me. This mentality is what a HOSA member, who has overcome the daunting enormity of a career in the health professions, should confidently relay to others. As we move from members of this organization to leaders of cutting edge medicine and its fascinating innovations that feed off new passions and curiosity, we must remember that this same life that may drive us crazy is the same life that we wholeheartedly love. Use HOSA as a platform to expand awareness, orchestrate evolution of consciousness, and challenge yourself to be a world shifter. Wherever you go, go with intent. Live the full life of your brilliant mind, exhilarated by new ideas, and driven to add your own touch to the healthcare industry. I wish for each member of Texas HOSA to find what makes you excited. Feel the overwhelming joy when you realize the impact you will make on this world. Discover the experiences and opportunities through HOSA that will allow you to arrive at this point. It is my honor to serve as your 2019-2020 Texas HOSA State President to guide you towards this. I look forward to this upcoming year where you will truly "Level Up" at the State Leadership Conference in Galveston, Texas! Sincerely, Abigail Alquiza Texas HOSA State President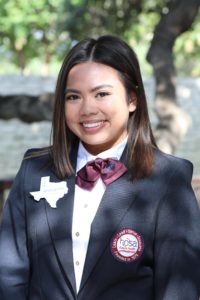 Abigail Alquiza, better known as Abby, is a senior at Sharyland High School in South Texas, making her a proud member of Area 7.  Abby can definitely testify that "Area 7 is truly heaven"! Abby has served as chapter, area and now state officer.  Currently, Abby serves as the 2019-2020 Texas HOSA State President. As she enters her fourth year with the organization, the phrase, "You're obsessed with HOSA!" is all too familiar to her.
As State President, Abby's responsibilities include serving as the presiding officer for all HOSA, TA meetings and functions.  From acting as a voting member of the Texas HOSA Board of Directors to ensuring each team task is executed with the highest precision and care, this position is of the utmost importance to Abby.
Abby is indescribably thankful for this organization. Because of this, she works tirelessly to lead others and strives to build a membership with high energy and dedication. Through HOSA, Abby has become committed to her passions.  Abby believes HOSA is the gateway to connecting with like-minded people while providing opportunities to achieve future career and educational goals. Abby plans to apply what she has learned through HOSA to her career goals.
As Abby looks "Towards Tomorrow", her ultimate career goal is to become a successful surgeon while incorporating her love of business management with a branch of medical facilities throughout Texas, the U.S., or even the world. When she is not working on site in a hospital or in an office, she plans to dedicate her skills to underserved areas.  Aside from medicine, Abby finds herself immersed in her love for travelling, classical piano, Instagramming, ice cream, silly adventure-ing and exploring the beautiful life she's been given.
From delivering officer speeches about falling off the bus at her first conference, ripping her skirt before competition, and comparing her growth in HOSA to nothing like her stagnant physical growth at 4 feet and 10 inches, Abby has one definite topic for her next speech. The next speech she will give will inspire HOSA members to "Level Up" at the 2020 State Leadership Conference!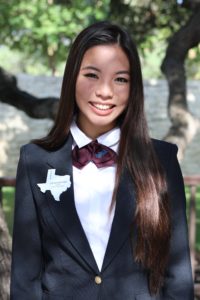 Chloe Nguyen is a senior at Michael E. DeBakey High School for Health Professions in Houston, Texas, the host of this year's international conference. She began as the parliamentarian of her school's chapter, and after four years, she is proud to represent HOSA on the state level, as the 2019-2020 Vice President.
In this position, Chloe has continued to share her love for HOSA through recruiting new members and officers, fulfilling the goals of the organization, and representing students as a voting member for the Texas HOSA Board of Directors. She ultimately strives to expand HOSA membership and with her team, assure that each member's experience in this enriching organization can be a memorable one. 
Some of Chloe's best memories come from competing at State in Transcultural Healthcare and Biomedical Debate, partaking in many opportunities that HOSA has to offer. Inspired by the impact of these fields of study and HOSA, Chloe currently serves as a surgical intern at the Baylor College of Medicine, shadows a cardiologist, and volunteers her summers in the Texas Medical Center. 
This organization has ignited in Chloe the passion for leading, serving, and helping those around her. She hopes to become a cardiovascular surgeon and provide care to  people living in poverty who cannot get the medical treatment they desperately need. 
When she is not involved in HOSA, Chloe loves to play guitar, paint, travel, and eat chocolate. Additionally, she loves to run while listening to anything from Post Malone to the Beatles. Whether it be a half marathon she did not train for, or in the hotel gym at HOSA conferences, Chloe is driven to always sprinting towards her tomorrow. As the finish line of this year gets closer, she could not be more excited to share the State Conference experience with every member!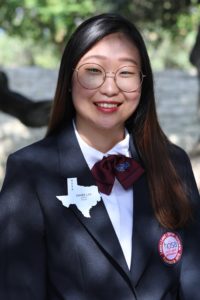 Dahee Lee is a second-year student at the University of Texas at San Antonio majoring in Chemistry and minoring in Anthropology. As the Post-Secondary Vice President, Dahee serves as the representative and voting member of the Board of Directors for the collegiate division and works to ensure that the goals of HOSA, TA are accomplished. 
Dahee has been a member of  HOSA for five years during which she had the opportunity to compete in various events such as Community Awareness, Medical Law and Ethics, and EMT. Beyond the competitions, however, Dahee describes the heart of HOSA to be the remarkable friendships that form from across the nation and the limitless growth fostered by professional development opportunities.
Currently the President of her HOSA chapter at UTSA, Dahee has also served as a chapter Vice-President and an Area 1 Officer while attending James Madison High School in San Antonio. In addition to being a HOSA enthusiast, Dahee works as a tutor, medical scribe, and participates in undergraduate research studying species delimitation through DNA analysis. In her free time, Dahee loves to play the piano, to learn how to make new desserts, and to try new restaurants around San Antonio.
Throughout the majority of high school, Dahee's motto was to "live like there's no tomorrow." This pushed Dahee to reach her limits in all her endeavors. However, Dahee realized that the fiercest flames are sometimes quick to burn out. She was then introduced to a new perspective: "Live like you live forever." By having the mindset of leaving a legacy, engraving a mark in the memories of people through interaction, a new type of motivation is cultivated in the form of a steady flame that lights the path for many miles to come. As the collegiate representative, Dahee wants to empower the HOSA community to continuously support and influence each other with this steady but powerful flame.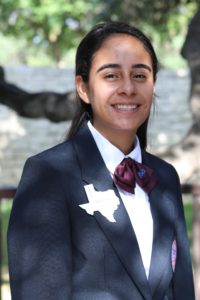 Italy Ramos is a junior at Health Careers High School. She serves as the Texas HOSA State Secretary. Her responsibilities include recording official minutes and attendance at all Texas HOSA Executive Council meetings, collecting official minutes from the Texas Area Officers, sending correspondence from the President to the team, and to achieve the goals of HOSA, TA. Her use of skills like communication, organization, and motivation allow her to effectively work with her team and HOSA officers to ensure the objectives of Texas HOSA are met.
Italy began her HOSA journey as a freshmen competing in Health Career Photography.   Through this experience, her desire to serve her community grew even more. Her sophomore year Italy competed in HOSA Bowl and placed third at Area and moved on to State. She also ran for Area office, where she was selected to be a State Candidate. Additionally, Italy is a volunteer at her church, school, and C.A.M.P. camp. She is the Librarian Assistant for the music department, a student Director for her Varsity Orchestra, and a member of Spanish Honor Society. 
Italy values friendship, confidence, and teamwork. She believes that to build a team, you must first have friendship...a bond so strong that challenges are overcome with ease. Teamwork is important to her because it shows that any person on a team is able to contribute their unique set of specialties. 
Aside from HOSA, Italy runs Cross Country, plays the viola, is a freshman mentor, and loves to paint her nails. As a native of San Antonio, Italy enjoys exploring new places. She hopes to continue her passion for traveling and aspires to be a Pediatric Oncologist. She appreciates classical music, museums, and all kinds of pasta.
Italy is eager to meet HOSA members from all over Texas in Galveston at the 2020 State Leadership Conference!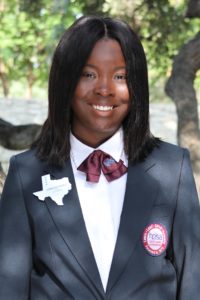 Jennifer Okolo is a senior at Wylie High School in Wylie, Texas. She serves as the Texas HOSA State Historian. Her responsibilities as historian include collecting digital pictures from all active HOSA chapters in Texas and creating a multimedia slideshow for the state conference. Her use of skills like creativity, organization, and motivation will allow her to effectively work with her team and showcase the accomplishments of Texas HOSA through photos and videos. 
Jennifer began her HOSA journey as a freshmen competing in Medical Law and Ethics. Jennifer has also competed in Medical Assisting and plans to compete in that event this year as well. Currently, she serves as the Wylie High School HOSA Vice-President. From her first exposure to HOSA, she became mesmerized by the drive Texas HOSA members had for their competitive events, their friendships, and their communities. From her first state conference, she knew HOSA was the home for her and she is honored to lead such an outstanding organization. HOSA has become a part of Jennifer's identity and it fuels her desire to contribute to the community and enhance her leadership skills.  
Throughout her life, Jennifer has lived by the quote "People will forget what you did, but people will never forget how you made them feel.'' She believes that every encounter with someone new serves the purpose of making an impact through your kindness, passion, and altruism. Every encounter she has experienced through HOSA has made her feel all of these and more. 
Jennifer's first exposure to the medical field occured when her sister was hospitalized with a heart defect and from this experience she drew upon inspiration to one day provide quality and compassionate health care to families the same way doctors did for her family. In pursuing this goal, she is currently enrolled in an Emergency Medical Technician course and spent her last summer conducting diabetes research at UT Southwestern Medical Center in Dallas, Texas. 
As Jennifer looks "Towards Tomorrow", her ultimate goal is to become an ER Physician while also incorporating her love for government and policymaking to advocate for equal access to healthcare and fairness in healthcare policies. Aside from medicine, Jennifer finds herself immersed in her love for scrapbooking, collecting stationary, playing sports, reading, and playing card games. 
Jennifer could not be more excited to meet members from all over Texas at the state conference in Galveston, Texas! Until then, Jennifer wants to encourage members to never let their fears limit their opportunities and strive to learn, lead, and innovate!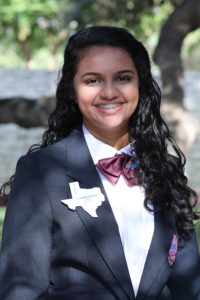 Joanna George, more commonly known as JoJo, is the State Reporter for Texas HOSA. 
As the State Reporter, JoJo works hand in hand with the Historian to stay active on social media sites and keep the members of Texas HOSA entertained and informed. She also works collaboratively with the rest of her team to make sure that the goals of HOSA, TA are accomplished. 
JoJo began her HOSA journey by competing in job seeking skills. Although she was successful, she found herself with a love for the organization and a desire to serve the organization. Her sophomore year, she ran to be an officer, and she served Area 3 as the Historian. In her junior year, JoJo found herself as a State Candidate, and eventually, a State Officer.  In school, she is in a health science endorsement and pursing her Pharmacy Technician certification. She is in her final year at Sunnyvale High School and hopes to pursue further education in the medical field. 
JoJo's philosophy is to work as hard as you can in order to be the best person you can possibly be. This reflects in her life inside and outside of HOSA. Outside of HOSA, JoJo is a light engineer and technician for theatre as well as her involvement at her local church, volunteer organizations, and clubs at school. Her hobbies include building, crocheting, and scrapbooking. She loves travelling with her family and doing things of a high school student, like hanging out with friends, dressing up on spirit days, and going to football games. 
JoJo hopes to see you at the 2020 State Leadership Conference in Galveston, Texas!